Creative Live / Work / Sell Space
The City of Worcester is a center for creative activity. From visual arts to performance art to writers of every genre, Worcester embraces the creative economy and its workforce. Worcester's diverse neighborhoods and stately architecture offer living, working and retail space for artists of every stripe. Below find a sampling of opportunities presently available in the city, as provided by creative space developers.
John W. Higgins Armory
100 Barber Street
The John W. Higgins Armory is a historical building and a Worcester Landmark. Available spaces throughout John W. Higgins Armory Building is for rent on a hourly, daily, weekly, or monthly basis. 42,000 sq.ft. available. 9,000 sq.ft. Great Hall is available on a daily basis and is the perfect backdrop to a fund raiser, film location, photography shoot, wedding, business function, art shows and more. 120 seat Auditorium perfect for lectures, signings, award nights, quiet listening shows, poetry, information sessions, trainings and more! Private parking lot that holds 200 cars available also for outside events. Office space, studio space, retail, gallery or pop-up gallery, film location, theater, and multiple other uses within the John W. Higgins building.
Please contact Jenn Bachour 508-410-1554, or email info@johnwhigginsarmoryllc.com also, please visit our website for pictures and more information visit the Higgins Armory website
Worcester PopUp
20 Franklin Street
The Worcester PopUp is a gallery where creative artists and entrepreneurs can bring creativity to life through rotating art exhibitions, performances, music, good food, and inspiring hands-on activity. The use of this space is free for the public.
To book, or for more information please contact: Culture@Worcesterma.gov
WorcShop
234 Stafford Street
The Worcshop is an 18,000 sq.ft "makerspace" facility specializing in larger scale projects & industrial applications such as machining, welding, plasma cutting, sandblasting, ventilated painting, blacksmithing, forging, casting, and various other processes that require lots of heat and pressure. The WorcShop additionally houses12 private studio/offices available for full-time members to rent, as well as a large multi-purpose classroom/conference room & kitchenette.
For leasing and additional information please contact: Theworcshop@gmail.com
Creative Hub Worcester
2 Ionic Ave
The Creative Hub is a proposed space for the visual arts in Worcester where artists can work and interact in a creative environment.The Hub will be home to a dynamic ecosystem of creative offices, a visual arts maker space, classroom space, installation art gallery, private studio rentals, and a rooftop event venue for creative and cultural events; the only one of its kind in Central Massachusetts.
For rental information please contact: rentals@creativehubworcester.org or for additional information contact: info@creativehubworcester.org, visit the Creative Hub website
Technocopia
44 Portland Street 6th Floor
Technocopia is a makerspace or as offering several options for memberships and rental space amidst a unique community of makers, artisans, educators and entrepreneurs. Membership includes access to all shared tools and equipment and common workspaces. Prospective members must apply in person.
For more information please visit the Technocopia website
Blackstone Print Studio
38 Harlow Street
Studio available for $300.00/month including utilities.Private studio for one or more artists. Large room, 520 square feet, ten foot ceilings, good natural light. Access to bathroom and sink with hot and cold running water. Separate keys to exterior and studio doors providing security. Free parking.
Contact Sally Bowditch at: 508-612-9151.
Sprinkler Factory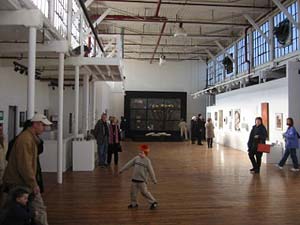 Located near downtown Worcester, the Sprinkler Factory is a large complex with a rich history. It is now home to an eclectic mix of tenants: working artists in different media who find the space inspiring for painting, ceramics, music and dance. The gem of the building is the huge atrium in the center of the complex on the 2nd floor, available for exhibits, dancing and other performances.
Visit the Sprinkler Factory website
Art Space Finder
The definitive place to help you find or list space to create throughout Massachusetts. www.artspacefinder.org
Contact Person
For more information or to see about listing your available creative space, contact Erin Williams, Cultural Development Director, 508-799-1400, x265 williamse@worcesterma.gov.