(Wagon) Wheels of Learning in Motion

Although technically not an official LEAP, the Worcester's Blackstone Canal Horse and Wagon Tours project is a shining example of education in action. Now in its sixth year, the tours originated from a school history project at South High School and over the past five years, the idea has grown into a Worcester summer mainstay, scheduling hour-long tours of Worcester's Canal District, which are held each Thursday night during July and August. The tours are entirely student run. They tell the farm to factory story of how the Blackstone Canal sparked the Industrial Revolution and the immigrants that made it happen, transforming Worcester from a rural town into the second largest city in the Commonwealth.
The tours are held on two wagons pulled by teams of Belgian Draft horses. Each wagon has two main tour guides who present the historical information and five costumed interpreters who give original, 2-3 minute impersonations of famous Worcester historical figures, adding depth and intrigue.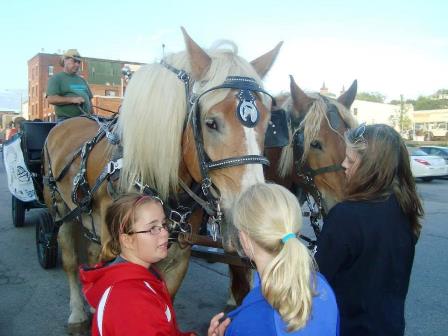 Public demand for the tours continues as we seek to join forces with other efforts that add vitality and life to the area. Last summer the starting place of the Tours was moved to Kelley Square as we teamed up with the first ever Kelley Square Farmer's market. There are now three teams of horses and wagons who are available for private tours. Demand for them has picked up around the city and beyond through the exposure the Tours have brought. The sustainability of this tour project is built upon collaborations between The Canal District Alliance, South High Community School and the 19 organizations throughout our city and valley that help train our students and fund the tours. All organizations dedicate significant amounts of time and effort to making the tours a success. Fully one quarter of our budget has been funded through the dedication of our volunteers each summer.
The Canal District Alliance is a non-profit group whose mission is: "To raise funds, produce events and engage in various activities aimed at promoting the physical and socioeconomic development in The Canal District in the City of Worcester, and the public awareness thereof."
The tours implement each one of the Common Core Shifts for ELA/Literacy in dynamic ways including regular practice with complex text and its academic language; reading, writing and speaking grounded in evidence from text, both literary and informational; and building knowledge through content-rich nonfiction.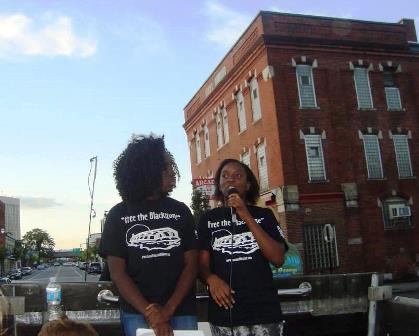 Worcester's Blackstone Canal Horse and Wagon Tours are a youth leadership development project. This project provides crucial training and experience for our students. Most importantly, however, are the intangible impacts the tours provide. It is crucial for our students to see that we are working hard for them and they are supporting each other. We understand that motivation and determination, not information, are the most important factors for success.
Worcester's Blackstone Canal Horse and Wagon Tours is a Community Partner to The Posse Foundation, a national organization that prepares and sends groups of ten inner city students (a Posse) to top private colleges tuition free. It is more competitive to receive a Posse scholarship than it is to get into Harvard. In 2012, for the first time, one of our four year veterans received a full scholarship to Centre College in Kentucky. That year we also had a semi-finalist. In 2013, we had a finalist and a semi-finalist.
All of our high school graduates are in college. Three have graduated. One spent six months giving tours of the State House on an internship from Northeastern University, another has worked for the National Park Service and is now in law school, another is a community activist here in Worcester, another works for UNNUM.