Real Math, Real Science

A collaboration between MA Audubon Broad Meadow Brook (BMB) and the EcoTarium present Real Math, Real Science to all sixth graders in the Worcester Public Schools. The three-day experience begins with BMB and EcoTarium staff going into the classroom together to present the pre-visit topic and cover various skills necessary for the field trip. The next day students go on a field trip - half visiting BMB and half to the EcoTarium. The groups have 1 1/2 - 2 hours to complete a scientific inquiry and gather data. The the groups switch sites, eat lunch and again conduct an experiment before returning to school. On day three, BMB and EcoTarium staff arrive for the post visit to determine what happened using the data collected on the field trip.
Topics are either Ponding/Streaming or Champion Tree, dependent upon current environmental conditions on the properties at the time of visit.
Broad Meadow Brook, located at 414 Massasoit Avenue, Worcester, features some 400 acres and miles of marked trails. Under the auspices of MA Audubon which cares for some 35,000 acres of conservation land, roviding school, camp and other educational programs for more than 225,000 children and adults annually. Founded in 1896 by two inspirational women who were committed to the protection of birds, MA Audubon today is one of the largest and most prominent conservation organizations in New England.
The EcoTarium, located at 222 Harrington Way, Worcester, is a unique indoor-outdoor museum in Worcester, MA. Set in an urban oasis, the EcoTarium offers a chance to walk through the treetops, take a thrilling multimedia journey through the galaxy at a digital planetarium, meet wildlife, stroll nature trails, ride a narrow gauge railroad, and get hands-on with family-friendly exhibits.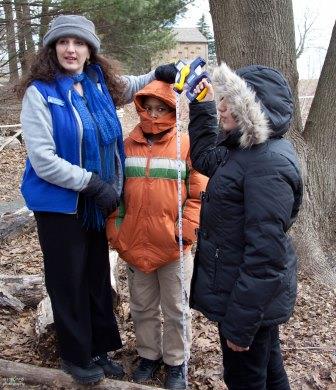 Students' capacity to understand complex scientific and mathematical concepts improves when engaged in projects that stimulate their curiosity, are enjoyable and connect their learning experiences to the real world. Real Math, Real Science was originally designed to address these issues by taking learning experiences out of the classroom and to connect urban students with the unfamiliar natural environment through the utilization of Worcester's unique nature-based cultural sites. More recently it has been enhanced to address today's focus on STEM learning, to integrate a science-based literacy component and to further the Worcester Public Schools goal of incorporating math and science career connections. Addressing the real world use of science and math is critical to sixth grade students who are at the juncture of deciding the value of pursuing these subjects as they look toward future career paths.
Additional support for this program provided by Alden Trust, Greater Worcester Community Foundation and WEDF.