A Step Back in Time

Old Sturbridge Village field trips and education programs have been one of the greatest traditions among schools throughout southern New England and beyond for generations. Not only do students have fun, but the dynamic, hands-on lessons they receive in history, agriculture, and sciences stay with them long after they return to the classroom. Worcester Public Schools third grade students visit Old Sturbridge Village for A Step Back in Time LEAP.
In addition to opportunities to examine original documents and write about them prior to their visit on site students can experience a hands-on exhibit on the six simple machines of Archimedes, and our three water-powered mills in operation. Old Sturbridge Village also offers teachers a variety of other options to align their visit with the Massachusetts Common Core and curriculum frameworks. These include four self-guided tours, with additional resources available for teachers on our website, including lesson plans, worksheets, background information, and activities.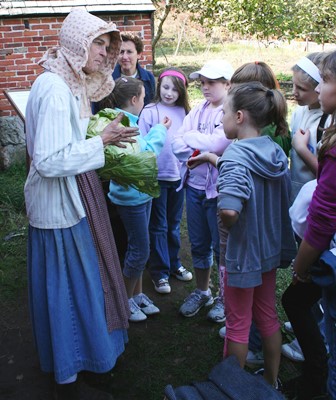 Old Sturbridge Village, located in nearby Sturbridge, Massachusetts, the largest outdoor history museum in the Northeast, depicts a rural New England town of the 1830s. OSV's purpose is to provide modern Americans with a deepened understanding of their own times through a personal encounter with New England's past. The museum is a nonprofit educational institution. Its collections, exhibits, and programs present the story of everyday life in a small New England town during the years 1790 to 1840.
The Step Back in Time LEAP allows students to enhance such skills as Environmental History, in which students explore New England's landsacpe through three interpretative natre trails and over forty historic buildings to learn how people used the land and how it changed over time; Early American Culture and Life in Early America in which students hear, smell, feel and experience what life was like in early New England by immersion in the Village's recreated living history community; and Language Arts by gathering relevant information for a reasearch project or composition through interviews. Teachers can also opt for the Village Classroom program, which explore specific topics including a 19th century school lesson, Lewis and Clark, a traveler's trunk and more.
In addition to the self-guided experiences at Old Sturbridge Village, teachers also have to option to add additional programming including Civic Programs, hands-on studio activities, Village Classroom and performance experiences. By visiting Old Sturbridge Village, students are gaining exposure to life in 19th-century New England. More than 65,000 students from around the region access the Village's exceptional living history experience every school year.